THE FOURTH MONKEY by J.D.Barker
Seven victims. Three boxes each.
The Fourth Monkey Killer has terrorised Chicago for over five years and is now dead. Hit by a bus while delivering a small box he is gone for good and the city can finally breathe a sigh of relief. When Detective Porter and his taskforce arrive on the crime scene, they already know that the gruesome content that lies inside the little box is the proof that another girl was taken. And now that the killer is dead, there is a chance that she is still alive...but where is she? Can this really be finally over?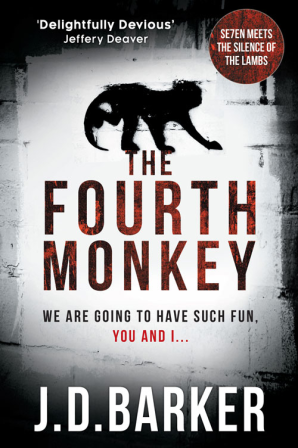 Published by HarperCollins Australia
Genre: Thriller
Pages: 480
RELEASE DATE: 19/06
We are all familiar with the three monkeys : "See no evil", " Hear no evil" and"Speak no evil" but there is also a fourth, less known " Do no evil". I would describe The Fourth Monkey as very graphic in some parts and not for the faint-hearted. Dispensing his own justice this serial killer tortured his victims before killing them, mailing body parts back to their families. Victimis were not random. The goal was to punish a family member who's relative have done something bad and break the law. A sort of vigilate with a twisted sense of justice.
Along with police investigation and the frantic search for the seventh victim, the killer itself tell his story through the pages of his diary. Honestly, I had figured out some parts expecting some sort of traumatizing childhood but I had no idea to what extent and I was genuinely shocked. Despite figuring out the majority of the events I was so swept away from the final twist that I honestly did not mind.
Barker's novel was advertised as a cross between "Se7en" and "The silence of the Lambs" a pretty serius claim, I thought, but after reading the 4MK I can say that he somehow managed to drop the references and at the same time deliver an original and tense thriller. I will give this book 4.5 out of 5 because I am a picky reader. The 4MK is one of those novels where the killer is always a step ahead of police, playing with them and dropping hints in plain sight from the beginning that were willingly overlooked to favor the plot development. And when something is so blatantly overlooked it might only mean that is the key to solve the mystery.
Neverthless, I had no idea of who the killer was untill it was reveiled but, damn! That part of the investigation was frustrating to read!
Relentless, clever, gruesome, twisted psychological thriller, perfect for who loves profiling, the 4MK is available in Australia from 01/07 thanks to HarperCollins Australia and I sincerly recommend you to pick this up and read one of the most intriguing thrillers of 2017.
BUY IT FROM: